Since the launch of Star Citizen in 2013, developer Cloud Imperium Games has been revolutionizing how multiplayer games are designed and built. With an estimated total cost for development well over $200 million, a truly immersive experience is only possible with modern game engines such as CryEngine. Even if you don't have the technical skills to make your own game engine from scratch, there's still plenty of ways to refine existing assets or create new ones using industry standard tools like Crytek's CRYENGINE® technology.
"jumptown star citizen" is a Star Citizen video that shows off the new Luminalia update. The video includes footage of the game's new planets and space combat.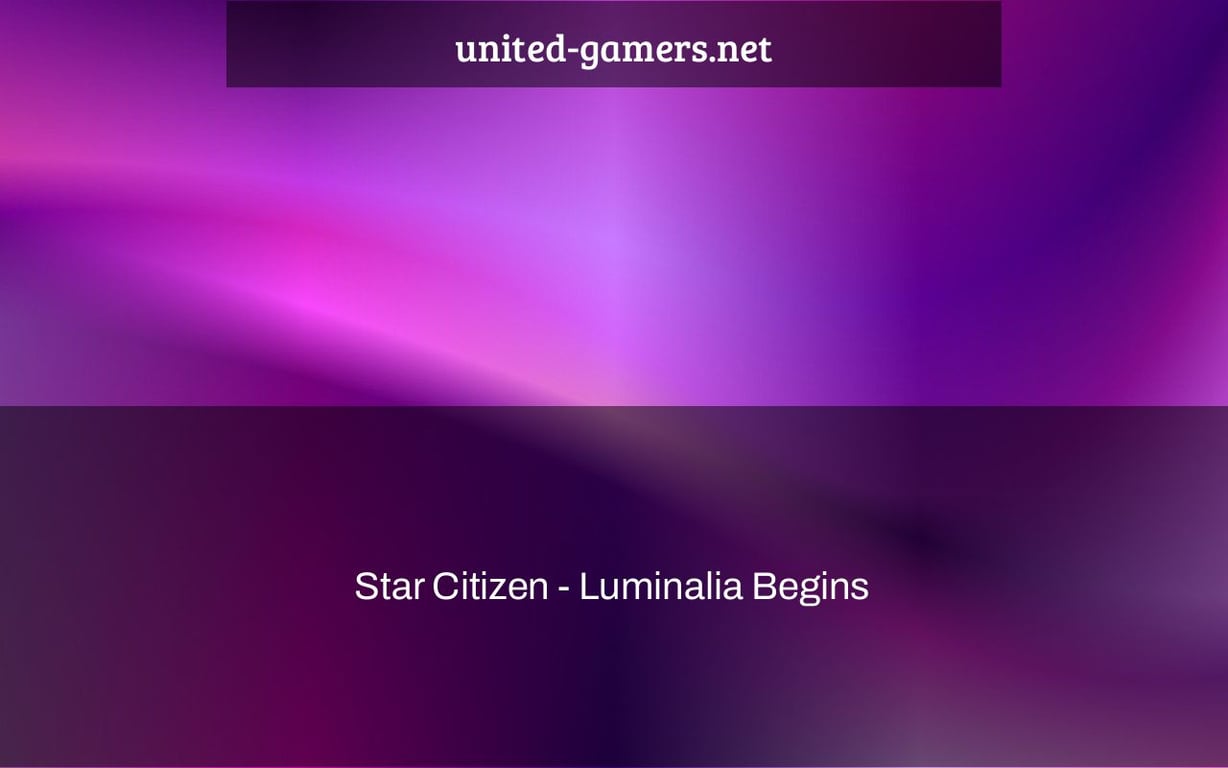 Star Citizen Alpha 3.16 is now in Evocati and will be released to the general public as soon as it is ready and stable. However, we got Lumninalia Event News, a sneak peek at Jumptown 2.0, new grav-lev tech in 3.16, a hint at a new vehicle on the way, and the most recent rsi sub perks.
In Star Citizen, it's Luminalia, which means there are new things to do and an event going on.
On December 22, both the Banu and Humans celebrate Luminalia, an annual celebration. It's practically Christmas in Space.
On the RSI website, which I will link below, there will be an Advent Calendar to open starting Saturday, December 11th. Every day, you'll be able to obtain a gift from a different door.
We also have hidden gift boxes across Star Citizen for a short period, which you may locate around landing zones and then sell at trade kiosks. You are, of course, free to give them to others.
Missions to distribute merry packages across the Verse are also available.
There's a Luminalia Screenshot Contest going on right now, and CI wants you to share how you're celebrating in-game.
JumpTown 2.0 will be released in version 3.16, and we've seen a few more facts about this regular event. Once the patch is issued, that will be run on a regular basis over the winter break.
When the event starts, one of three drug laboratories will be the focus.
Jumptown (Crusader's Yela), Raven's Roost (microTech's Calliope), and Paradise Cove (Lyria by ArcCorp).
When enabled, upgraded Outposts create a large amount of drugs for free, as well as tasks related to this. When one of the outposts is operational, players will get the task through their mobiGlas. If you have a crimestat, you'll be given the criminal version of the assignment, which requires you to take as much drugs generated by that outpost as possible and sell them to GrimHex.
The legal part of such task requires you to return the seized narcotics to the nearest planetary station where the drugs lab is located and sell them to the administration office.
Because you will have a temporary license to carry those substances as long as you are on an authorized assignment, security personnel should allow you through.
All of these drugs will be available for purchase at the Shops without needing to wait.
When you accept the job, you'll see two indicators indicating where the drugs are created and where you may sell them.
You are not need to complete the objective in order to participate in the event, although everyone on the server may be aware that it is taking place.
Ground vehicles and dropships, they think, will see a lot more usage now.
In Alpha 3.16, the Grav Lev motorcycles get a minor upgrade.
Grav lev is currently in a bad stage, with you getting trapped on geometry and flipping or freaking out.
With the new system's hover suspension, you'll be able to enjoy grav lev even more, without getting trapped on rocks or bumping your head on the ground.
It's a lot less clumsy now.
They've also adjusted the controls to enhance turn friction.
Better height control and new anti-fall impact mechanism, so the bike will cushion itself if you take a huge leap.
Also, when you turn off the electricity, the motorcycles will lower themselves, and when you turn them back on, they will gently rise.
A new grav lev hover vehicle of some kind has also been prohibited on ISC.
You should be able to do so during Luminialia and/or during 3.16.
We've also received some further information about the DECEMBER RSI SUBSCRIBER PROMOTIONS.
Morozov and Sangar Helmet – The Vigil Sangar helmet blends high-tech energy absorption with a gladiator-style appearance, making it both functional and eye-catching. The matching Morozov armour also comes with a large bag for all your space-adventure supplies, much like all new armour.
The Aftershock Color Scheme is applied to Centurion Subs.
That, as well as the Terracotta, is given to the Imperators.
In addition, the sub shop sells a Thule scheme.
You'll get them if you submit by December 14th.
CIG would like to remind players that when you die, you may lose stuff on your body, but you may get them back by performing a character reset.
It's crucial to remember that this is merely a temporary solution for getting your stuff back to you as soon as possible. We're looking at a few different recovery solutions that we want to introduce in the future.
The MOLE is the ship of the month, which means RSI members may fly it until December.
At addition, the Constellation Series is available in the sub shop.
Watch This Video-
Star Citizen is a game that has been in production for about 15 years. The game was released on December 20th, 2018 and the developers have promised to continue development until 2021. Reference: star citizen 2021.
Related Tags
star citizen widow
star citizen jumptown 2
star citizen jumptown location