There's nothing more exciting than a new fashion release, especially when it comes to Sims 4. With Maxis Match Athletic Wear CC (Guys + Girls), you'll be able to get your hands on the hottest trends in sports wear for all ages and genders – meaning that there is something for everyone!
"sims 4 athletic cc" is a CC that allows players to use the Athletic Wear in the Sims 4. It adds new clothing items and also includes body types for both genders.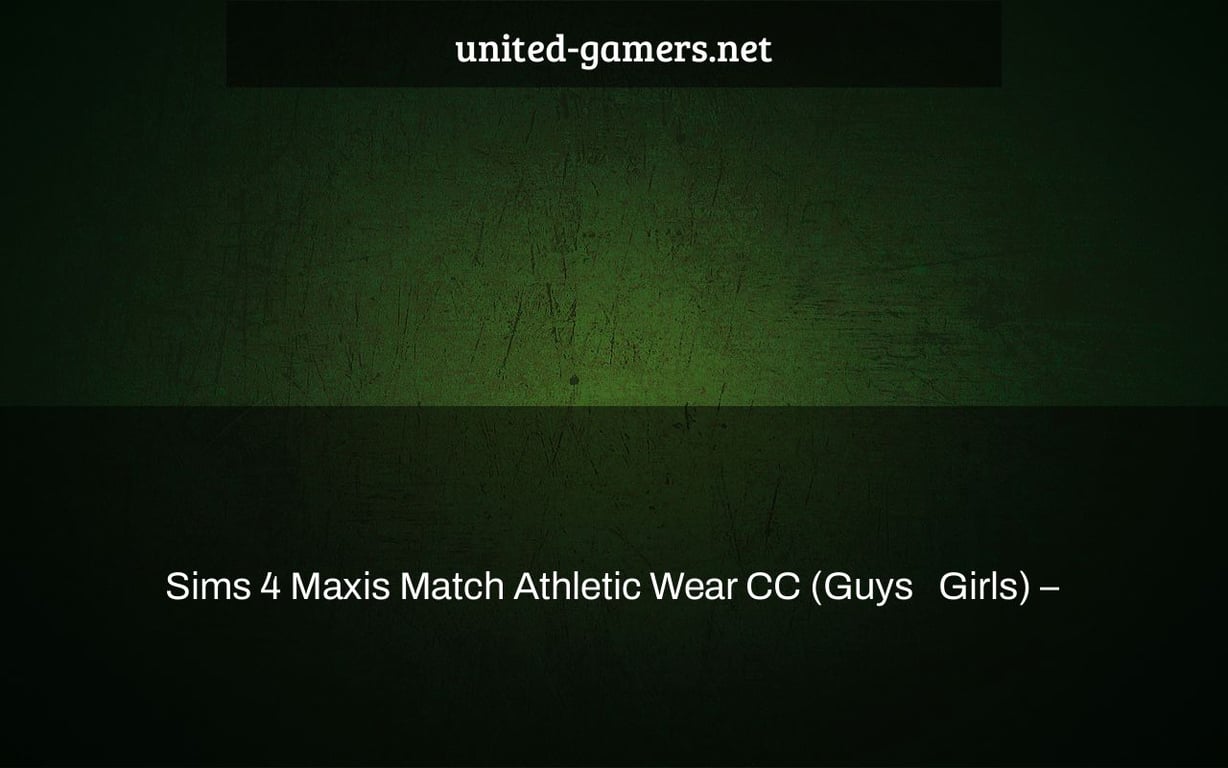 In The Sims 4, fitness has taken on a surprisingly important role.
Not only have the talent and "active" clothing categories been carried over from previous games, but there's also more material than ever focused on getting your Sims moving.
We've obtained a few little enhancements for CAS from different packs. But if you really want to spruce up your Sim's sports attire, you may choose from a plethora of personalized stuff.
The outfits on this list are exactly as high-quality as you'd expect from the real thing, and they're sure to delight any Simmer. And it all has a Maxis Match vibe about it.
All of the hottest trends, as well as some throwbacks, can be found right here.
1. Camo Workout Empire Bra
Take a Look At This CC
Sports bras are one of the most brilliant innovations ever.
Modern health and research are wonderful, but have you ever tried running without a supportive bra? Which problem is more important is obvious.
I'm joking, just to be clear. But it's true that these more practical alternatives didn't appear out of nowhere; the need and desire for something that enables women to move as freely as men began decades ago.
In terms of aesthetic and functionality, we now have all of the alternatives we could ever want. Ekinege has created a fantastic example of a contemporary sports bra that can also be worn as a top.
This design has a criss-crossing band with the Workout Empire logo for added uniqueness.
Set 2: Bonnie
Take a Look At This CC
The cornerstones of women's athletic apparel are leggings and sports bra sets. They'll make any female feel unstoppable when they're together.
They're designed with one goal in mind: to allow women to exercise freely without worrying about snagging, ripping, or sweat stains on their clothing.
Functionality often comes at a cost.
It's not always easy to find useful clothing or accessories that are also attractive, but that's not the case here. The basic hue is black, but vibrant accents like blue, red, green, and purple truly stand out.
These are your basic high-waisted leggings paired with a high-quality sports bra, and they're perfect for any strenuous activity.
3. Sweater made of wool (Guys)
Take a Look At This CC
For the males, this plain shirt is a low-key alternative.
With Rope's knit hoodie, kids can still hit the pavement and enjoy some running time when the temperatures decrease.
Allowing them to walk out in something sleeveless, which makes up so much of the sporting wear category for guys in CAS, will be a lot less strange.
The sleeves are a bit shorter and slightly pushed up than a typical hoodie, stopping exactly at your Sim's elbows.
Something about it makes it seem to be a fantastic athletic alternative.
The sweater will give just enough warmth while also functioning as a practical item when worn with shorts or sweatpants.
Hooded sweatshirts serve a variety of functions, and it's easy to overlook how handy they may be during workouts.
Abena Athletic Set No. 4
Take a Look At This CC
Developing a passion for fitness is almost never a bad thing. That may help you develop a long-term healthy mindset in which being sporty is enjoyable rather than intimidating or unpleasant.
Many individuals are intimidated by the prospect of running for a lengthy period of time. But what about those who have been on the go from kindergarten? It's a piece of cake.
This beautiful CC set, which includes a cropped sweatshirt and high waist sweatpants, will ensure that your Sims' youngsters are ready to run, hop, skip, and do anything else comes to mind.
Even though it's a kid's game, I enjoy that the author didn't take any shortcuts.
Many of their outfits are extremely simple, and style should not be squandered on children.
That's not a lot of fun, is it? Onyx Sims has ensured that the youngsters are clothed as well as the adults.
The trousers have two white stripes that contrast well with the bright colors and black swatch, while the sweaters sport a range of Simlish logos and motifs.
5. Sweatpants with Slim Cuffs
Take a Look At This CC
Although sweatpants (along with pajamas) have been hijacked by the majority of society as popular casual clothing, they are nonetheless based in sports.
They're designed to be as comfortable during exercise as they are on the sofa, enabling the user to stretch and move freely without being constrained by other less-flexible fabrics.
Have you ever attempted running and jumping for long periods of time in your jeans? It's not enjoyable.
Even the worst Sims aren't deserving of such treatment.
Eliza Pancakes, for example, isn't one of them.
This is a good change of pace from the same old sweatpants we've been wearing since the game's inception. These are slender and cuffed, just as the name suggests, and just what your male Sims need while shooting hoops or telling that treadmill who's boss.
6. Muscle Tee Bod-E (Male)
Take a Look At This CC
What good are muscles if they aren't flaunted?
That hard work and perseverance are deserving of recognition!
Show off your Sim's amazing biceps and fantastic pecs with a muscular shirt instead of hiding them behind baggy hoods. This shirt is entirely body-conforming and will highlight your Sim's best features.
I suppose this would act as incentive for many individuals, given how difficult it is to keep a "decent" figure.
When your male Sims wear this tight-fitting Maxis-Match shirt, they'll be the hottest thing at the gym.
7. Athletic Top Jealousy
Take a Look At This CC
It's difficult to maintain a charming appearance while you're exercising.
You get hot and bothered, which puts a lot of cosmetics to the test. Any hairstyle that is more complicated than a ponytail is unlikely to make it to the finish.
As a result, the clothing must be of the highest quality.
This Jealousy Top is well called, since I'm already envious of the Sims that are modeling it.
It's long-sleeved, layered, and cropped.
In a little container, there's a lot going on. And it's effective.
As if it wasn't great enough, there are 18 swatches to choose from, each with a vivid alternative to give your Sims a good workout.
8. Jersey Tee for Kids (Throwback Fit Kit Required)
Take a Look At This CC
Most of the time, the kids are left out of this game.
Young Adults are the stars, and all other ages are lower on the totem pole, as we all know.
Hey, I'm not passing judgment. I also care a lot more about my YA Sims than I do about my younger Sims since they seem so much more fleeting.
However, with the correct clothing, hair, and accessories, Child Sims may be a fun game to play. Yes, I'm judging them just on their looks. That's OK as long as they aren't genuine!
Simiracle reduced a shirt from the Throwback Fit Kit to make it suitable for toddlers, and the results are wonderful.
This jersey, which comes with a clip-on fanny pack, gives the impression that the youngster has places to go and sports to play, just like so many genuine kids.
This faultless conversion is just what you need if you want to give the impression that your Sim's kid has an existence.
Only Play Leggings (nine)
Take a Look At This CC
No matter how you look at it, all work and no leisure is boring.
When I'm playing The Sims, the only time I feel bored is when I'm beginning a fresh save and my Sim's life centers on job, promotions, and more money.
It's always nice to be able to do so, but working out is a different story. Depending on their personality qualities, certain Sims may be unhappy unless you schedule time for sports activities – which they see as enjoyable!
I have no idea what you're talking about. Allowing them to do their thing (and perhaps make some friends at the gym) is always preferable than waiting while they squander time at their dreadful job.
The Nike logo and a textured cotton texture are just a few of the features on these fashionable leggings.
Multicolored stripes wrap across the legs and provide a charming accent to the waistline.
I enjoy current sports clothing since we can obtain trousers like these that are suitable for both running and heading the coffee shop afterward.
I want to build clothes that are relatively neutral and will serve my Sim throughout the day since the clothing categories are often a bit strange.
Thanks to CC creator Margeh-75, you may do so with ease.
Simply combine them with a tank or sweater (depending on the temperature), and your Sim is ready to workout and face whatever the day brings.
Sweatshorts are a tenth of a tenth of a tenth of
Take a Look At This CC
You may either lounge about in your sweatshorts or use their robust material to start moving.
Either option is acceptable. Even Sims, though, need a bit of both to live a balanced and healthy existence.
Wherever the wind blows, no one will blink an eye at your Sim wearing these fashionable shorts.
They're a laid-back look that doesn't put too much focus on sports, which makes them ideal for Sims who go to the gym on a more casual or infrequent basis.
Not everyone is a die-hard gym rat with a wardrobe full of top-of-the-line fitness gear. Here's a way for your Sims to do their thing in style and comfort, thanks to Peacemaker.
They're a decent length, touching mid-thigh, and have small drawstrings at the top.
The 30 samples also span a wide spectrum of hues, ranging from beige and gray to pink and purple.
11. Athletic Tank Dress with Layers
Take a Look At This CC
Depending on the sort of sports we're talking about, wearing a dress may not be the best decision for workout.
However, there are certain sports and mild exercise possibilities.
This CC is a cute feminine activewear alternative put together by the designer using several meshes.
Their efforts paid off handsomely, as this is a very unique gown.
As far as I'm aware, there are no other gowns in CAS with the "active" tag!
It's difficult to ignore the athletic atmosphere. And with 20 swatches to select from, you'll have plenty of options.
The layered look comes from the dress being worn over a sports bra, and it's a classic combo that will never go out of style.
Biker Shorts (12.)
Take a Look At This CC
Biker shorts have recently become fashionable in several areas.
However, their fundamental function has always been linked to physical activity.
What's not to appreciate about that? They're as tight as a nice pair of leggings, although they're a little shorter. It's as near as you can come to being clothed without really being clothed.
Bicycles are a very recent addition to the game. Your Sims, on the other hand, may rock these for any reason they choose, whether or not pedals are involved.
Sticking to the basics like sports bras or tanks will make an athletic clothing as nice as any other, while pairing them with an oversized shirt will make for a charming and stylish combo.
These come in a staggering 60 colors and feature a little Simlish logo on the bottom of the left leg.
BG Athletic Pants (nineteen)
Take a Look At This CC
By altering the texture and giving the legs a shorter, cuffed shape, this CC designer greatly enhanced the original game trousers.
The original version had nothing especially negative to say about it. However, in the 2020s, they seem to be a bit more appealing.
This override is more trendy than the basic design, which seems to be from the mid-2000s.
MaushaSims even improved the smoothness and realism of the pants. I hadn't really realized how rough the EA version was, but these tiny tweaks are a quick and easy way to make them look better on both male and female frames.
But don't worry if you like the originals.
When you download this CC, you can choose whether you want them to replace existing CAS options or create a fresh new solo option.
She also provided 30 swatches, which means you'll have more color options than ever!
Set of 14 Vintage Athletics
Take a Look At This CC
There are certain things that should be left in the past.
However, the cheesy fitness fads of the 1980s do not fall under this group.
And I use the word "tacky" with the greatest affection. Men's short shorts, incredibly tall tube socks, and varsity jackets all evoke a peculiar feeling of nostalgia for a period I've never experienced.
To be honest, it pretty much sums up much of the CAS things we received with Parenthood.
And this artist grabbed that idea and ran with it.
By eliminating the strange and unneeded second layer, Pleyita restored the shorts to their former splendor.
Then there's the matter of the socks.
They're the typical massive ones, stretching all the way up to your Sim's thighs (only taller than you may think). Get To Work is necessary, however I can't think of a job for these socks that isn't 1980s gym teacher-related.
This set, like all the finest ones, gives you lots of options for personalizing a look, such as adding accessories coats.
Vintage varsity jackets are available for both male and female Sims, and may be worn with any top or ensemble.
Each choice comes with 40 swatches of gloriously vintage hues, allowing you to mix & match with the rest of the outfits.
Last but not least, Pleyita added 40 swatches to the tuckable, rolled sleeve basic game shirt, allowing for even more mixing and matching!
Annie Athletic Set, No. 15
Take a Look At This CC
Another set based on Parenthood products has been created. It's the layered tank for ladies this time.
That's already one of my most used tees, but I really appreciate how Marvell reworked it.
Because of this, the layers are now trimmed and a bit more flattering.
With this outfit, you have two choices for bottoms:
With a drawstring and pockets, the sweatpants are quite basic. The texture is also fantastic; you can tell they're going to be incredibly soft, and there are minor but genuine wrinkle patterns.
You'll also receive a pair of adorable shorts with a realistic cotton feel.
Whatever you select, you'll get a wonderful casual and uncomplicated exercise.
There's a matching option with the shorts and slacks for each of the nine tank top swatches.
Leggings with Compression
Take a Look At This CC
In the last decade, compression clothing has grown quite popular.
And these men's leggings will undoubtedly aid them in achieving top performance.
They're simple, skintight, and have a low waist. Serious athletes (i.e. Sims who have the characteristic) will be at their peak.
SYNTHSims outdid themselves with these.
They have a really smooth look, they feel 100% Maxis Match, and the colors are your standard gray and navy blue menswear palette.
Solshark Athletic Set, No. 17
Take a Look At This CC
This package includes everything you'll need to outfit your Sims with a stylish sports clothing.
Leggings come in two lengths: long and mid-length, both of which are ideal.
It's the perfect leggings that everyone covets. They don't appear like they were painted on, but they do fit like a glove.
Solistair also has a shorts option, which is similar to the leggings but stops a few inches above the Sim's knee.
All of the bottoms will enhance your Sim's figure and even give them a nice butt.
Allowing them to wear anything from the Solshark line will be a huge help to them.
But you'll need something as wonderful on top, which is why a sports bra is included in this set. It's somewhat sheer, but the sections that need to be covered are – and it looks great.
18. Tank Top for Workouts
Take a Look At This CC
With this line of motivating tank shirts from Sugar Owl, we're going back to basics.
Put it on a shirt if it's worth believing in.
That'll definitely get the point through.
Fun designs include a Storm Trooper lifting weights and a T-Rex straining to perform push-ups, as well as two that mention "beast mode." What more motivation does a man need to become swole?
Because all nine swatches are solid black, they're a great neutral top to pair with almost anything.
Shana Hoodie Vest (19.)
Take a Look At This CC
To various individuals, being athletic might imply different things.
Only sports and gym equipment will suffice for the most dedicated sportsmen.
Light treks and jogging with friends are plenty for others.
This is the kind of outfit that is appropriate for all of that and more.
It offers the best of everything, including the functionality and look of a hoodie without the sleeves that most hoodies have.
This practical vest will give your Sim the impression that she understands what she's doing. I'm not sure why, but that's the sensation I'm getting – and there's no need to resist it!
It's an excellent shirt to have on come rain or shine, whether your Sim's physical pursuits take them no farther than inside the local treadmill or into undiscovered trails across town.
20. Cute Sporty Hooded Dress
Take a Look At This CC
Because most children do not engage in intense activities, their clothing do not need to be as ornate or functional.
They just need something that enables them to express themselves.
This hooded short-sleeved dress is perfect.
It is a mid-thigh length and will look great with a variety of leggings and tights.
Your athletic cuties will be ready to play stickball or whatever it is that teenagers do nowadays.
So, I'm not completely out of the loop. However, thanks to recent upgrades to The Sims 4, children's Sims are now more competent and have more options than ever before.
And with this CC, you'll have a nice new costume choice for them to try out all of the new activities.
Watch This Video-
"Cute workout sets" is a term used to describe the athletic wear that can be found in the "Sims 4 Maxis Match Athletic Wear CC (Guys + Girls) – ". The clothing set includes a variety of different styles and colors. Reference: cute workout sets.
Related Tags
sims 4 mmfinds
metens alisia
workout clothes near me
amazon workout clothes
90s workout clothes